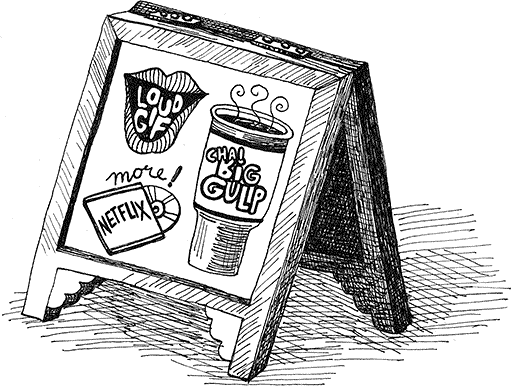 Civic Quarterly Recommends
In our increasingly interconnected world, we sometimes find that taking a step back and accepting advice from a bundle of paper pages glued together the internet helps ground us. We invite you to take our best advice for improving your life, civic or otherwise.
Not looking at your phone as you walk down the street
That work email can wait. You don't want to trip and make a fool out of yourself in front of all those people waiting for the bus again, do you? In fact, try not looking at your phone as long as possible and see how it feels.
Emily gives it to us straight. We want you to read it, we need you to read it, our dear civic tech friends. (Please, please, please?)
Taking a different route to work
Usually take the bus? Try biking. Like hopping on the metro? Take a meandering stroll. See a different part of your city; you never know what you might notice.
Drinking Chai Tea
An underrated source of caffeine. Our creative team is practically chugging this stuff.
Gifs. With. Sound. Period.
Want to get a text message if you need an umbrella when you leave the house? BAM. IFTTT has you covered. Need an alert every time free computer junk is posted to Craigslist? IFTTT will make sure you can jump on that shit faster than anyone else. Wouldn't it be cool to get an email digest of everything tweeted in your neighborhood? IFTTT can make it happen.
Reading "Decoding the City," edited by Dietmar Offenhuber and Carlo Ratti
In the editors' own words, "this book represents a cross-sectional view of the research agenda practiced at the SENSEable City Lab at the Massachusetts Institute of Technology." Offenhuber and Ratti have done a fantastic job compiling and arranging these essays, making this a great jumping off point for readers who want to understand urban planning through the eyes of contemporary academics.
Watching Black Mirror
Thought you had run out of things to watch on Netflix? Think again. This is a modern day Twilight Zone, featuring different dystopias at the intersection of technology and society. Eerie, satirical, disturbing, solid science-fiction that's not too much of a stretch of the imagination. Warning: it'll probably make you want to run away and start a farm in Canada somewhere without wifi. CANADA.
Reading Citizenville, by Gavin Newsom with Lisa Dickey
As former mayor of San Francisco and current lieutenant governor of California, Gavin Newsom's vision of the future of government is predicated on experience—he's walked the walk. In Citizenville, he talks the talk. Although it certainly reads like a 21st-century political wish list (including the usual suspects of transparency, open data, and "an entrepreneurial mindset"), it's nonetheless a worthwhile read for those new to civic technology looking to get a lay of the land.