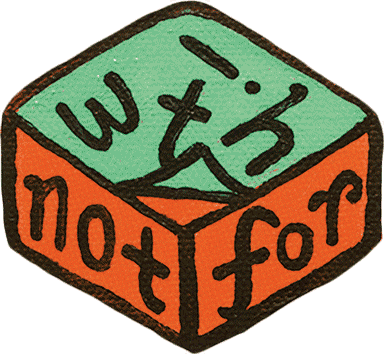 Designing With,
Not For
By

Andrew Maier
There is power in plurality, in juxtaposition. In his book "Aircraft Stories," sociologist John Law tells stories about how the British government came to procure and produce a "military-grade weapons system"—an aircraft—from myriad perspectives: from designers, engineers, pilots and politicians all the way down to those who composed and illustrated the aircraft's brochure. Law adopts these disparate perspectives to show how each actor's seemingly "objective" pursuits were, in practice, anything but. More generally, he shows how any sufficiently complex pursuit is comprised of multiple narrative arcs.
Issue #2 of Civic Quarterly centers around the phrase "Design with, not for," an idea originally introduced by Laurenellen McCann that was constantly revisited on stage at Code for America's 2014 Summit1. At its core, "Design with, not for" compels us to involve others in the design process. It is as much a rallying cry as it is an admonition, suggesting that those of us designing citizen experiences shouldn't merely create products and services; we should create a shared sense of ownership. We're not designing for customers, after all; we're designing for citizens.
So how might designers facilitate collaborative design? We can begin by listening to multiple narrative arcs. In this issue, we'll hear from technologists, academics, and social entrepreneurs working to apply proven private sector design methods to challenging public sector problems; we'll explore community and capacity building; and we'll think critically about how to make civic technology and civic design more accessible. We'll show how to create a more sustainable future by working in closer collaboration with the communities we serve.
Footnotes
Code for America's Summit is a conference that the San Francisco-based nonprofit holds to convene innovators from dozens of local governments, civic-minded technologists, designers, community organizers, and entrepreneurs.

Return