It's
Be

tter Out There.
The Story of Open Trails
By

Ryan Branciforte

A new standard for parks and recreation data enables organizations to provide better access to public lands.
In the 1860s, California senators, along with President Abraham Lincoln, had the foresight to set aside Yosemite Valley, which was just starting to attract tourists and prospectors, as protected land. This eventually led to the creation of Yellowstone National Park (in 1872), the first National Park in the Nation, and years later the National Park Service. State park agencies followed suit, as did regional and urban park districts. Today these agencies collectively oversee some 715 million acres1.
On the landscape, amorphous parks and trails blend together; oftentimes agency boundaries go unnoticed to even the most ardent outdoor enthusiasts. This reality speaks to the collaborative nature of public agencies, nonprofits, and others who preserve and protect these spaces. What may go unnoticed in the parks, however, becomes a clear challenge where most outdoor trips begin: online. Whether on their laptop, tablet, or phone, an increasing number of today's would-be park visitors plan their trips by traversing blogs, scouring park agency websites, and downloading (local, regional, or national) travel applications. It's a confusing and oftentimes fragmented experience.
Finding and planning a trip to a local park shouldn't be this difficult. In this article, I'll share the story of OpenTrails , an open-data standard bringing clarity to the data ecosystem undergirding our Nation's parks, trails and recreational areas. Along the way, we'll review the standards-creation process, look at some of the tools that agencies can use to get started, and review some hard-won strategies for simplifying complex data workflows. Finally, we'll see how places like Boulder, Colorado are using OpenTrails to launch their very own (or standardize their existing) trail-related applications.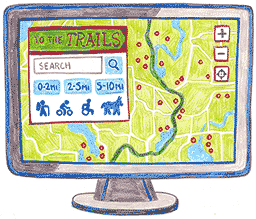 A common problem across the land
In 2009, Jereme Monteau and I partnered with the Bay Area Open Space Council to develop an outdoor application for the San Francisco Bay Area2. Over the next five years we tackled the enormous challenge of aggregating the best trail and trailhead data we could find across ten counties. We quickly learned that every agency had a unique strategy for managing its physical and digital assets. Despite these difficulties, our collaboration with the Council, their members, and many park partners resulted in Transit & Trails, an application designed to help people find and plan outdoor adventures3.
On its own, the Transit & Trails story wouldn't be too unique, but our tale actually picks up from there. In 2013, a team of Code for America Fellows located in northeast Ohio did almost exactly the same thing: the Fellows aggregated data across regional agencies into a single, uniform database4 and then used that database to power ToTheTrails, a web application providing visitors with a seamless and enjoyable experience in locating their region's parks and trails.
And this time history didn't just repeat itself. After completing ToTheTrails, Fellow Alan Williams observed: "Land conservation happens at all levels of government, and we've found that every region has the same problem. Visitors across the country deserve a solution that scales." Alan and his colleagues soon recruited nonprofits, public agencies, and for-profit companies to assist in developing OpenTrails, an open-data specification for public park- and trail-related data5.
Version 1.1 of the specification launched in July 2014; OpenTrails was ready for adoption. That's when Jereme and I shifted our focus to partnering with park and recreation agencies in order to help them better understand how the new standard could help them in their mission.
A path to adoption
Jereme and I have worked with enough park and recreation agencies that we can confidently say that every agency is interested in either developing or publishing data to web (and mobile applications) to increase visitor engagement. The devil, though, is in the details: how should they go about doing this? Our work with the Bay Area Open Space Council (in addition to the Fellows' work with Ohio) evinced the power of data standards in uniting disparate workflows. More than this, though, Jereme and I believe that building a community of parks and recreation agencies who use technology to engage with their visitors is in everyone's best interest. This prompted a partnership with Code for America in which we collaboratively developed a multi-week training course centered around Open Trails.
Our first6 course was offered in the Fall of 2014, and though originally limited to just eight agencies, more than a dozen were admitted due to overwhelming interest7. The course began with an in-depth review of the specification as well as apps that use OpenTrails such as ToTheTrails, Transit & Trails, and OpenTrails Mobile. This helped participants envision how they could directly benefit from adopting OpenTrails. The second week of the course saw participants reviewing, evaluating, and eventually converting their data to OpenTrails. Participants were introduced to tools like the OpenTrails Converter and the OpenTrails Guidebook.
During the third and fourth week, participants established workflows for publishing OpenTrails-compliant data, taking advantage of some of the features of OuterSpatial, a platform that helps convert, manage, publish, and visualize OpenTrails data. Participants were able to see their data on an embeddable interactive web map, making it trivial to communicate the value of adopting OpenTrails to their colleagues. Indeed, seeing their data also sparked unexpected forms of collaboration.
One region's voyage
It's common for multiple agencies to share the task of managing a given region's many parks and trails. In the past, it has been a challenge for neighboring agencies to arrive at a standard for sharing information—as was the case for Boulder County and the City of Boulder in Colorado. Fortunately, both the City and County participated in our course and were motivated to standardize their data in order to develop a holistic trails application for the Boulder region.
Adopting an open data standard and partnering on a regional application takes champions, of course. In this case, a mix of agency staff, volunteers, and engaged citizens drove the charge: Meredith Dutlinger and Kristina VanDenBosch, both GIS Project Managers for Boulder County Park and Open Space, along with their colleagues Susan Christophersen, Technical Project Manager, and Ron Pringle, Senior Applications Manager for the City of Boulder, all played critical roles.
Susan and Ron are both active participants in Code for Boulder, a local Code for America volunteer brigade. They were the ones to initially introduce their community to OpenTrails. Soon thereafter, the brigade began prototyping various options8. One volunteer, Mario Barrenecheajr, describes their efforts: "At first, it seemed like a good idea to create a full copy of Summit County's ToTheTrails application. After learning about OuterSpatial, though, brigade members asked ourselves 'do we need a trails database of our own?' Connecting to OuterSpatial was easy—the API is self-explanatory—and I'm now in the process of working with brigade volunteers to show the trails for both the City and County of Boulder."
After only a few months, the project is well underway. Both the City and County are working to establish a regular data workflow (for updating and publishing OpenTrails data), and an alpha version is hoped to be ready by this summer. Finally, both the City and the County plan to take advantage of OpenTrails Mobile, publishing their data to iOS and Android applications.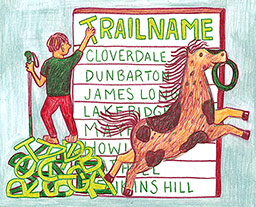 Is OpenTrails right for you?
So that's our story. Over time, Jereme and I have come to see how open standards such as Open Trails can help turn unstructured data into dependable sources of information. This, in turn, puts power in the hands of both government agencies as well as the citizens they serve. Ultimately, it creates the potential for far more unified citizen experiences.
We're currently in the process of working with communities across the country to migrate data to Open Trails9. Readers interested in joining a growing network of communities and agencies across the country (including Portland, Oregon, the San Francisco Bay Area, Albuquerque, New Mexico, Boulder, Colorado and agencies like the National Park Service and the National Recreation and Parks Association) in adopting and promoting OpenTrails can sign up for the next OpenTrails training course online. If a course sounds like too much of a first step, consider taking a closer look the OpenTrails Converter or the OpenTrails Guidebook that we mentioned earlier—or visit OpenTrailData.org, a portal for all things OpenTrails.
You can always touch base with us directly as we are happy to provide one-on-one support as we continue to develop tools, platforms and apps that help grow the OpenTrails ecosystem and most importantly provide a better citizen experience on our nation's public lands. See you on the trail!